Upcoming Gigs 2018
First gig in 2018!
26.01.2018 @ 8below (Munich)
with
Kemwer
&
Aftershowparty (Resident DJ Patrick & Neurosi)
Wanna book us?
Contact(at)CravingforChaos.com
Past Gigs 2017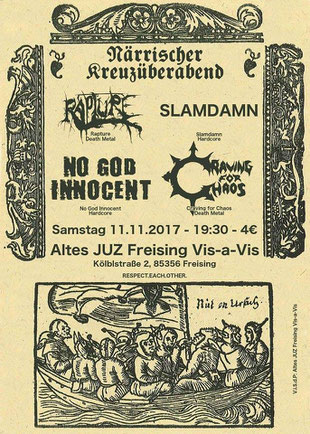 Närrischer Kreuzüberabend
11.11.2017
@ Vis-a-Vis (JUZ Freising)
with
RAPTURE
Slamdamn
No God Innocent
Doors: 7:30 p.m.
Ticket: 4,-€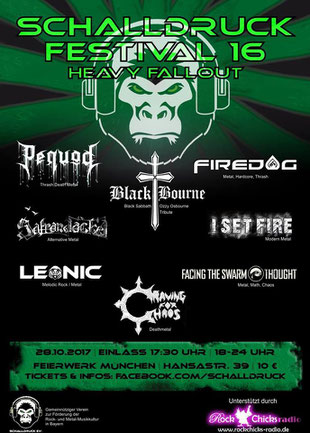 16. Schalldruck Festival
28.10.2017
@ Feierwerk München (Kranhalle)
with
Black Thourne
Pequod
Firedog
I SET FIRE
Leonic
Safran Jacket
Facing the Swarm Thought
Doors: 5:30 p.m.
Ticket: 10,-€

Stage time: 6 p.m.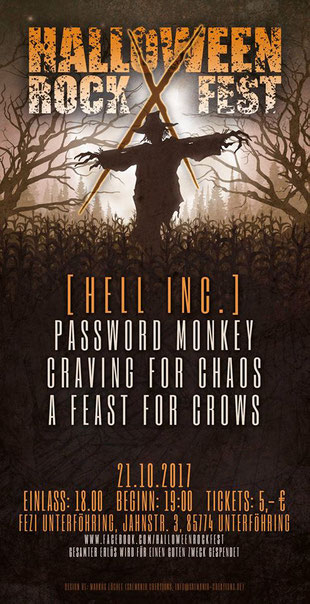 Halloween Rock Fest
21.10.2017
@ FEZI Unterföhring (Munich area)
with
[Hell Inc.]
Password Monkey
A Feast for Crows
Doors: 6 p.m.
Ticket: 5,-€
(all entry fees will be donated to charity)

01.04.2017
with
In Demoni, Deliver the galaxy & Skullhunter's diary
doors: 7:30 p.m
@ Bandhaus Leipzig
Past Gigs 2016


Past Gigs 2015
Metal Fest Munich
15.10.2015 / Garage (Ostbahnhof)
/w AD/AC Motörwelt, Renegade,
Blowout (Italy) and Reverend Hound
Doors: 7 p.m.
8 € 
Trash' till Death

07.03.2015 @ juZe, Landsberg am Lech
/w Dissorted & Godmachine
Bergfest im
05.02.2015 @ 8Below, München
/w Turrets & Liver of a Duck
Metal Leistungskurs 7
31.01.2015 @ JuZe9, Heidenheim an der Brenz
/w Dissorted & Demons Dream
Past Gigs 2013
Metallix X-Mas Festival
26.12.2013 @ Backstage HALLE - München
/w AKREA, Imperium Dekadenz, Abinchova & Harakiri for the SKY
https://www.facebook.com/events/158261754347991/
Einlass: 18.30 Uhr / Beginn: 19 Uhr
VVK: 13 Euro / AK: erhöhter Preis


Eine Veranstaltung von Backstage Concerts GmbH und MRW - Concert Promotion & Booking
CANCELLED!
05.07.2013 @

GO IN - 87634 Obergünzburg
/w Debauchery, Fleshcrawl, My Darkest Hate,
MORTAL INFINITY, uvm.
● Festival Area (bei Regen, komplett Überdacht)
● Gratis Parken
● Gratis Forest Camping
● Aftershow Area
● Merchandise Shop by Black Legion Augsburg


The Dark Side of Munich Festival II
09.02.2013
/w Eryn Non Dae., RAPTURE, Dead Alone, Arsirius 
@ Hansa 39, Munich 
Everhate Fest
02.02.2013
/w Straight From Hell (Fulda), Order To Resist, Dying Source
@ Stattbahnhof Schweinfurt (kleiner Saal)
Alte Bahnhofstraße 8-12, 97422 Schweinfurt
Past Gigs 2012
Supporting Lyfthrasyr @ Wintersonnwendgrillen  
/w Crypts For The Living 
21.12.2012  @ Cafe DaDa - Munich
http://www.Kultur-am-Rande.de
UNDEREST, Declamatory & Craving for Chaos
24.11.2012
@ Werk 9 BERLIN 
Supporting INGURGITATE, PRION, MERCILESS PRECISION
/w MEDECOPHOBIC
02.09.2012
@Feierwerk (Munich)
Kulturspektakel Gauting OPEN AIR
28.07.2012 @ Würmtal Campus
/w Rapture, Rustinal & Defated
FINALLY!
EP Releaseparty
22.06 & 23.06.2012 @ Feierwerk München
AtMoshFEAR Festival II -  2 Days Indoor-Festival
/w Kathaarsys
With catering (Familienzentrum-Hadern-Blumenau.de)
American Hotdogs (auch vegi!) & Aftershowparty!

GARNIX Festival
15 - 19.06.2012 @ TU Campus Garching
  Zwergenaufstand Open Air/ leider abgesagt worden/ cancelled
Quarzbichl 06-09.06.2012 
http://

www.zwergenaufstand-openair

.de/
Nargaroth, Nocturnal Depression (F), Stormnatt (A), Amystery, Ewigeis, Lost Life, Thorngoth, Nazarene Decomposing, Darkestrah, Creature, Menhir, Black Messiah, Riger, Fimbulvet, Hangatyr, Satanakozel (RUS), Hromovlad (SVK), Panych
ida (CZ), Svart Skodde, Spectral, Strydegor, Barbarians (IT), Saltus (PL), Abrogation, Ossarium, Morphosys, Eternal Torture, Commander, Diabolos Dust, Nator, Satanika (IT), Tulsadoom (A), Battlecreek, Sons Of Hollister, Knaat
 EVIL HORDE METALFEST 2012 @ Zeche Carl (Essen)
12.05.2012
/w Napalm Death, Harasai, Orden Ogan, Kadavrik,
Canopy, Night in Gales u.v.m.
Craving for Chaos, On broken Grounds
& Nearly Half Past Twelve after Civilisation

04.05.2012 @ JUZ Puchheim
06.01.2012
Feierwerk - sunny red - München
31.03.2012
We support Cold Snap (Croatia) @Balthes Club Ravensburg
11.04 Sharing stage with
Cold Snap (Croatia) and Hope Dies First
@ BACKSTAGE Club Munich